Have you read an article or comment thread online that contains anti-wind myths and disinformation but didn't have the resources at your fingertips to counter the spin? This post is intended to let you create factual, solid, referenced comments debunking disinformation in five minutes or less in the areas of Health, Environment and Smart Grid.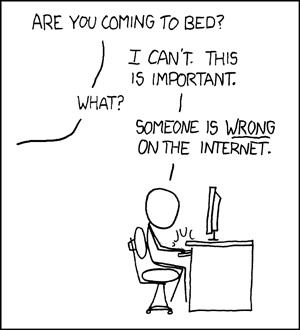 Courtesy of http://xkcd.com/386/
The Basics
Health
Environment
Advanced Debunking
Health
Environment
Smart Grid
General Guidance
Correcting disinformation with coherent, brief and referenced comments can be a very productive way to spend a little time each day to assist in the ongoing PR war in support of wind energy.  Most media outlets have comments enabled on their online articles, and most blogs do as well. Those comments sections get read, and often get read a lot.
Here are a few suggested guidelines for being most effective:
Make your audience the people who are silently reading. The ratio typically used for online discussion areas is 1:10:100. That is to say, one person posts something original starting a discussion, 10 people comment and 100 people read the back-and-forth.
Stick to the facts, not the people. Make your comments additional information, not attacks on other commenters.  Let them take the low road (and many of them will).  The quiet reader will read your facts and their attacks and generally will make a judgment in favour of facts.
Don't argue too much. Many people on comment boards seem to view it as their primary social outlet. Don't feed their need for attention. You won't convince them, so don't waste your time trying. Post your information for the quiet readers and move on. Only engage if a question or point of clarification is raised which enables you to make another solid insertion of information.
Four Steps to Countering Anti-Wind Disinformation
Step 1: Make sure you can comment comfortably.  Some comments sections allow you to submit with any user name of your choice and your email address which is kept anonymously. Others require you to register with the outlet.  Many or even most now allow signing up with Facebook, Twitter or Google accounts, making it pretty easy to get in and tie your comments to the rest of your social media presence. Figure out how public you are willing to be. Consider setting up social media accounts just for this if you want to isolate it from the rest of your online presence.
Step 2. Identify the myths being spread. Read the article and the comments so that you rebut the right myths.
Step 3. Create your comment from the boilerplate in this post. Copy whichever snippets pertain to the myths you've spotted into your comment.  The snippets contain accurate and brief summaries of the reality plus a link to — mostly — this blog with full and detailed information.  You may choose to grab one of the major links in the blog posts instead as your evidentiary link or something else entirely. What you write is your choice based on what you are trying to communicate and who you think the audience is. The snippets are organized into three sections for your convenience:
Note that a subset of comment sections don't allow links at all, presuming that they are usually marketing spam.  Ditch the links and rely on the text in that case. Watch for character or word limits as well and edit accordingly.
Step 4: Share and bookmark this post. Help your friends and acquaintances make a difference too.  The more people there are telling the truth online, the lower the impact of the disinformation.